Teeth Whitening in Kansas City & Gladstone
Many patients desire a whiter smile. A teeth whitening service will help reduce the appearance of stains that accumulate from daily habits such as drinking coffee, tea or wine and smoking. Teeth whitening is a non-invasive dental treatment used to change the color of natural tooth enamel. It is an ideal way to brighten your smile.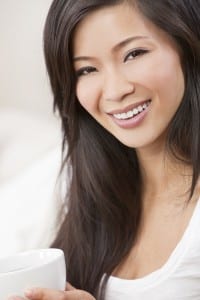 We have found that patients most often have teeth whitening completed for the following reasons:
Yellow, brown stained teeth
Normal wear of outer tooth layer
Fluorosis (excessive fluoridation during tooth development)
Stained teeth due to medications
Whitening and Replacements
Since teeth whitening only works on natural tooth enamel, it is important to evaluate replacement of any old fillings, crowns, etc. Replacement of any restorations will be done after whitening so each replacement will match the newly whitened teeth.
If you're ready to enhance the natural beauty of your smile, contact Dr. Joy M. Miller, D.D.S today at (816) 452-5800 or request an appointment for teeth whitening in Kansas City.
"Great experience. Dr. Miller is very knowlegable and explains all possible options and the expected results. I have been referred to Dr. Miller after I tried many other dentists. I am new in Kansas City so finding a good dentist was a challenge! I am so glad I finally found what I was looking for.
The hygenist was very thorough and did a great job. This was the best cleaning I've ever had."
by Nibrass (March 28, 2012)